3vallees parapente
Saulire Paragliding  vous verrez que le décollage est accessibles à tous , skieurs ou surfeurs, même (quasi) débutants.En effet,Il suffit de se laisser glisser tout droit sur quelques mètres avant de s'envoler en douceur.
Alors accompagné par un moniteur diplomé d'état, vous serez aux premières loges avec   3vallees parapente pour profiter de la vue magnifique sur toute la vallée de Méribel ou Le Mont Blanc.
A votre choix,vous pourrez faire   un vol contemplatif et/ou acrobatique et/ou pédagogique(  piloter l'aile) sans supplément tarifaire.
mais vous devez être muni de skis ou snowboard ….Si vous ne skiez pas, nous pourrons selon l'enneigement vous proposer un autre départ d'envol…(en vallée)
Pendant le vol, le pilote fera les prises de vue et photos HD que vous pourrez obtenir en option…..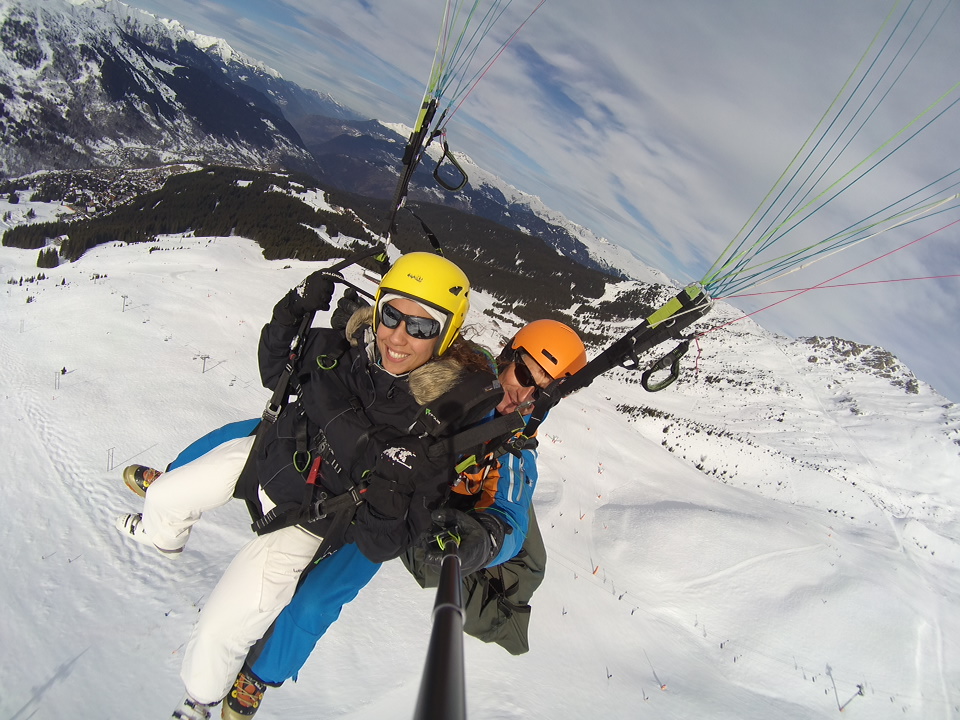 With a full qualified instructor, you'll be at the best place to enjoy the amazing view over Meribel Valley and Mont Blanc.
As you wish, you'll    do contemplative, acrobatic or/and pedagogic flight. You'll be able to steer youself the wing without extrafee
Hopely,It is possible to fligh as soon as 5 years old……but you need to wear skis or surf .
But if you don't ski, we'll be able to propose you an other start, depending of snow conditions.
Hopely, during the flight,  some photos and HD videos will be taken by your pilot. You'll be able to check and buy it after the flight.
              

TARIFS DES VOLS/FLIGHTS PRICES
HORIZON( 15/25mn)   : 130€
PRESTIGE (45mn/1h ) :  200€ (  dans les ascendance thermiques)
VOL DECOUVERTE (10/15mn):  90€ (sous conditions)

c'est pour offrir! demandez nous un BON CADEAU

It is for a present!   ask us a GIFT VOUCHER
contact:  stephane@3vallees-parapente.com